The latest Ford Ranger price in May 2021 and specifications
---
Dubbed "the king of pickups", Ford Ranger cars have always led in sales in the pick-up segment in the Vietnamese market for many years. In the ranking of vehicle sales in the first quarter of 2021, Ford Ranger sold 3,873 units, up 2 times over the same period last year. Meanwhile, Toyota Hilux sold only 803 units, Mitsubishi Triton sold 451 units.
The reason the Ford Ranger has such a good purchasing power is because the car has a youthful, muscular design, is equipped with many safety technologies and supports good driving in mountainous terrain, gravel, mud, etc. .. that has been proven over the years always peaking in sales, trusted by customers. The machine is strong, durable and fuel-efficient, with a variety of versions for customers to choose from.
According to newly updated information, the 2021 Ford Ranger pickup truck will be assembled at the Ford Hai Duong factory, and in the near future will be opened for sale in the first batch in Vietnam. It is expected that the price of locally assembled Ford Ranger will be lower than that of imported cars, thus putting more pressure on rivals such as Toyota Hilux or Nissan Navara, Mitsubishi Triton... Ford Ranger 2021 latest update.
Price of Ford Ranger 2021 listed in May 2021
Currently, Ford Ranger 2021 has up to 6 versions for customers to choose from, including both manual and automatic transmissions. In addition, customers also enjoy discounts from Ford in May and change depending on the time of purchase.
Version

List price (million VND)

Endow

Ranger Wildtrak 2.0L 4x4 AT

925

Offer: 20 million dong

Ranger LTD 2.0L 4x4 AT

799

Offer: 20 million dong

Ranger XLS 2.2L 4x2 AT

650
-

Ranger XLS 2.2L 4x2 MT

630
-

Ford Ranger XL 2.2L 4x4 MT

616

Offer: 20 million VND

Ranger Wildtrak 2.0L 4x4 AT Limited

905
-

Ranger XLT AT 2.2L 4x4

779
-

Ranger XLT MT 2.2L 4x4

754
-
Car models are discontinued but some dealers are still in stock, customers wishing to buy can contact dealers for more details.
Price of Ford Ranger 2021 rolling in May 2021
Below is the price list of the Ford Ranger wheelchair including costs such as registration, tolls, registration tax, ....
* Unit: million VND
Version

Listed price
Rolling price
Hanoi
Ho Chi Minh City
Other Provinces/Cities

Ranger Wildtrak 2.0L 4x4 AT

925
1011
1000
1000

Ranger LTD 2.0L 4x4 AT

799
874
864
864

Ranger XLS 2.2L 4x2 AT

650
711
704
704

Ranger XLS 2.2 4x2 MT

630
690
682
682

Ford Ranger XL 2.2 4x4 MT

616
674
667
667
*Note: the above rolling price is for reference only, the price does not include promotions at the dealer (if any), the price may vary depending on the area and equipment of each vehicle.
Price comparison table of Ford Ranger 2021 with competitors
Below is information about the price of the New Ford Ranger 2021 pickup truck compared to current competitors in the same segment such as Mitsubishi Triton, Mazda BT-50, Toyota Hilux, Nissan Navara
| | | | | | |
| --- | --- | --- | --- | --- | --- |
| Version | Ford Ranger | Mitsubishi Triton | Mazda BT-50 | Toyota Hilux | Nissan Navara |
| The shortest | 616 | 600 | 579 | 628 | 615 |
| Tallest | 925 | 865 | 749 | 913 | 835 |
Although, Mazda BT-50 and Nissan Navara are the two cheapest models in the segment, but sales are still unable to turn on the top compared to rivals like Ford Ranger or Toyota Hilux...
Paint color of Ford Ranger
New Ford Ranger 2021 is imported CBU from Thailand with 10 exterior paint colors: Saber Gold, White, Silver, Meteor Gray, Black, Sunset Red, Blue, Golden Gray, Red, Sky Blue.
Quick review of Ford Ranger 2021
Focusing mainly on high-rise vehicles such as SUV or Crossover, Pick up has brought certain successes to Ford, especially the name Ford Ranger.
American design, outstanding off-road ability, good wading are what the Ford Ranger shows itself to be the king of pickups.
Ford Ranger Exterior
The overall design of the Ford Ranger has a noticeable change in the front, having the same design as the version previously launched in Thailand. However, the chassis dimensions with Length x Width x Height are respectively 5,362 x 1,860 x 1,830 (mm), the wheelbase of 3,220 mm and the ground clearance of 200 mm remain the same compared to the previous generation.
The grille frame and front bumper have a uniform, thick design that looks extremely aggressive like a giant nose, painted in glossy black. The grille has a 3D eye style and changes to black paint instead of gray on the old version. The lighting system continues to be equipped with square Bi-LED balls, fog lights, .. However, the headlight cluster has been painted dark instead of chrome on the version in early 2020.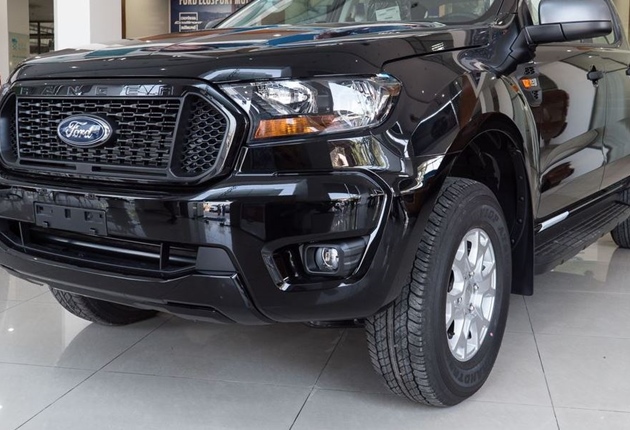 The headlights equipped on the Ford Ranger 2021 high-end version use LED technology with Projector bulbs capable of automatically turning on / off according to the light sensor equipped on the vehicle. Lower versions use Halogen Projector bulbs, but the design remains the same. The LED daytime running lights are similar to what appeared on the old version.
The body of the car still retains the car's school style, compact and very sporty shape. The wheels are upgraded with a 6-spoke double-spoke black painted on the high-end version, the regular version has a large 18-inch structural spokes unchanged from before. Electric folding rearview mirror with integrated halogen turn signal light. Smart sensor door handles are also included.
The rear of the Ford Ranger Wildtrak 2021 has almost no change, the taillights have been refined to be more beautiful, but still use regular bulbs, not LEDs. The camera system / reverse sensor is fully integrated on this most advanced variant.
The electric lid closure feature allows users to control it from the convenient cabin, but unfortunately not integrated on the Ford Ranger 2021 for the Vietnamese market.
Interior of Ford Ranger 2021
The overall interior layout has not changed, 2 tones of color coordination on the most advanced version include black leather and yellow-orange stitching according to the car color.
Taplo uses high-quality leatherette materials to add luxury, the center is an 8-inch entertainment screen that is not similarly upgraded on the old version. The air conditioning system, the central control position maintains a simple design, enough to use without any difference.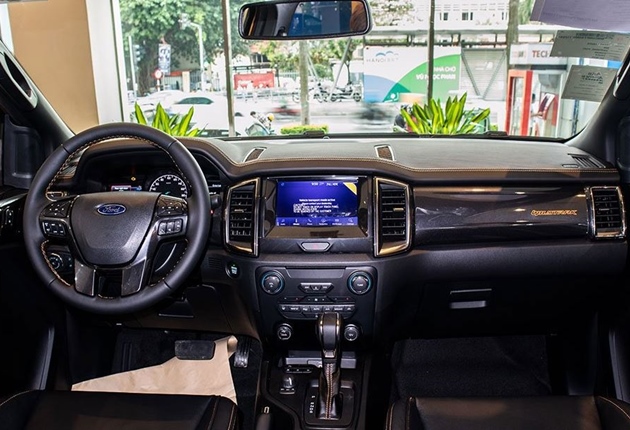 The 3-spoke leather-wrapped steering wheel with Ford's signature design is still applied on the new generation Ford Ranger 2021. The function keys are integrated such as: voice commands, hands-free conversation, volume adjustment ...
Seats are equipped depending on the level according to each version including leather seats and synthetic vinyl seats, 6-way electric driver's seat. The rear seats provide 3 spacious seating positions, which can be flexibly folded, accompanied by headrests and armrests. The legroom between the 2 rows of seats is quite comfortable.
The amenities equipped for a better user experience thanks to the SYNC 3.4 infotainment system include: 8-inch touch screen with USB/AUX/Bluetooth connectivity and smartphones via Android Auto/ Apple CarPlay... and the output is an 8-speaker audio system. The amenities will vary depending on the version of the Ford Ranger.
The operating engine of the Ford Ranger 2021
Ford Ranger 2021 has 5 versions and 3 engine options including:
- TDCi Turbo Diesel 2.2L i4 TDCi produces 160 horsepower and 3,200 Nm of torque.
Single Turbo Diesel 2.0L i4 TDCi helps the car reach 180 horsepower and 420 Nm of torque.
- Bi Turbo Diesel 2.0L i4 TDCi engine helps to generate 213 horsepower and 500 Nm of torque.
The Ford Ranger pickup has 4 versions using a 6-speed manual or automatic transmission, while the XLD and 2 Wildtrak versions are equipped with a 10-speed automatic transmission.
Safety features of the Ford Ranger 2021
On the newly launched generation of Ford Ranger, according to user reviews, this new version has been omitted a lot of driver-assistance safety features, the remaining features are equipped such as:
- Anti-lock braking system
- Electronic brake force distribution system
- Electronic balance
- Vehicle rollover mitigation control system
- Load control system
- Hill start / downhill assist system
- Front/rear parking sensor
- 6 airbags
- Back camera with 2 views...
General assessment
With a strong, aggressive American design and proven performance over many generations, the Ford Ranger 2021 is definitely a very tough opponent of pickup trucks in the same segment such as Toyota Hilux, Mitsubishi. Triton, Nissan Navara, Chevrolet colorado,...
However, the reduction of equipment on the new generation of Ranger is not appreciated by many experts and customers because it can reduce the safety and overall value of a model of the new generation 2021.
---
---
Operate and exploit advertising by iCOMM Vietnam Media and Technology Joint Stock Company.
116 Thai Ha, Trung Liet Ward, Dong Da District, Hanoi.
Email: info@more.edu.vn
Editor in chief: Tran Vo
Tel: (+84) 903076053/7 Fax: (+84) 903030935