Microsoft brings Android apps to Windows 11 in 31 countries
---
It can be said that one of the most appreciated improvements on Windows 11 is the ability to support running Android applications directly without installing emulator software. Users only need to download Android apps from the Microsoft Store through the Amazon Appstore. In other words, Microsoft will bring the Amazon Appstore to Windows 11.
To further leverage the benefits of this feature, Microsoft is now ready to make access to the Amazon App Store available to more users, allowing them to experience Android apps on Windows 11 in the most optimal way. than. The Redmond company has just officially announced the implementation of a plan to support Android applications for customers in 31 different countries, such as Australia, Canada, France, Germany, Italy, Japan, Spain, the United Kingdom. United Kingdom, United States, etc.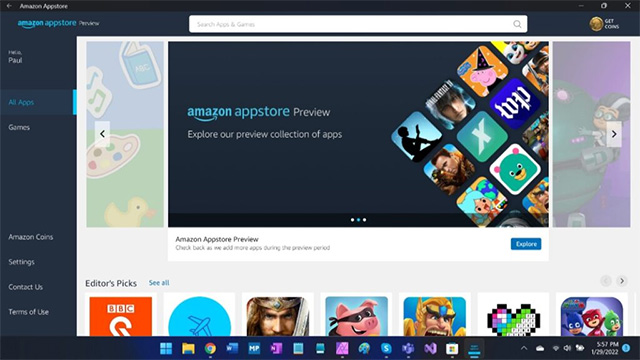 Microsoft says the feature's initial testing phase in the United States (and more recently Japan) has attracted a lot of interest from users and the developer community. Many people were very excited to experience their favorite Android applications on Windows with a large screen, despite the fact that Microsoft's operating system does not support Google Play Store and related services. . Currently, Windows 11 users can download Android apps on Windows 11 through the Amazon App Store, or download and install them via APK files from the internet.
The Amazon App Store on Windows 11 also now gives users access to over 20,000 popular Android titles and games. To improve discoverability and make it easier for users to download Android apps on Windows 11, Microsoft has included them in editorials and search results, providing ratings and reviews inline as well as customizing them. choose to share the link with other users.
The ability to launch Android apps and games on Windows 11 is still taken care of by the Windows Subsystem for Android. The latest release brings significantly improved graphics performance, support for DRM video content, enhanced input (touch, mouse and keyboard) and many other quality improvements.
However, if you're running Windows 11 on your PC, it's also important to note that Windows Subsystem for Android isn't available on all devices. Minimum system requirements include 8GB for RAM, and minimum 8th Gen Intel Core i3 chip, AMD Ryzen 3000 or Qualcomm Snapdragon 8c for CPU.
---
---
Operate and exploit advertising by iCOMM Vietnam Media and Technology Joint Stock Company.
116 Thai Ha, Trung Liet Ward, Dong Da District, Hanoi.
Email: info@more.edu.vn
Editor in chief: Tran Vo
Tel: (+84) 903076053/7 Fax: (+84) 903030935