Fluctuations in Russian supply are weighing heavily on the world aluminum market
---
While many European countries are actively 'boycotting', Russian metal flows are shifting to Asia, especially China.
September 25, 2022 A 2014 Tesla has crossed the 1 million miles mark, but one part must...
September 25, 2022 US oil reserves are at a record low in nearly 40 years
September 25, 2022 Europe is 'thirsty' for electricity, Asia and Africa lack food - it turns out that the cause comes from the situation...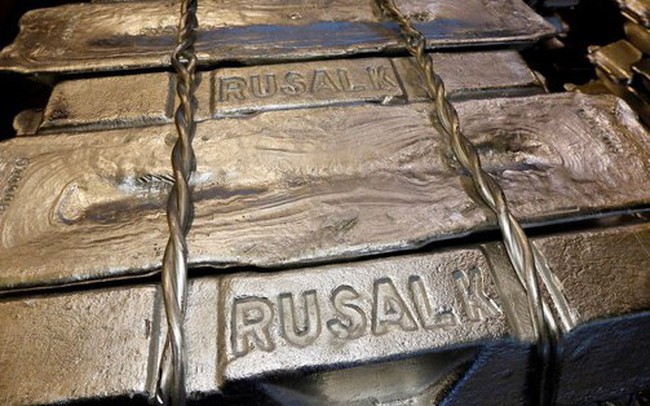 Since the Russia-Ukraine conflict broke out, aluminum prices hit an all-time high of $4,073.50 a tonne in March.
Currently, the market is considering the possibility of losing metal sources from the world's largest aluminum corporation Rusal of Russia. The company produced 3.76 million tons of aluminum in 2021.
In 2018, when US sanctions against Oleg Deripaska, the owner of Rusal, caused massive volatility throughout the length of the global supply chain.
At the moment, however, there are no sanctions on Rusal aluminum in response to what is happening in Ukraine. So Russia's supply is showing signs of increasing as Rusal looks to build a new smelter and looks to export more metals as domestic demand weakens.
Who will buy all this aluminum?
The self-sanctions are likely to disrupt normal sales channels over the next year, with the possibility of Russian metal flows diverting to the final market of the London Metal Exchange (LME).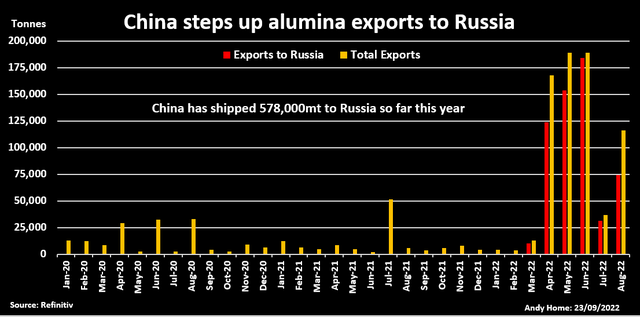 China's aluminum exports to Russia compared to total exports.
The only government to take direct action against Russia's aluminum sector is Australia. In March, the country banned the export of bauxite and alumina (aluminum) intermediates to the country.
That effectively froze Rusal's source of alumina from the Queensland Alumina joint venture. Another important alumina supply channel was also closed due to the closure of the Nikolaev refinery in Ukraine in March.
However, the shortfall in alumina is being promptly filled by Chinese manufacturers. The nation of billions of people has boosted exports to Russia. China has shipped 577,000 tons of alumina to Russia since March, compared with just 1,250 tons in 2020 and 1,750 tons in 2021.
The flow is strong enough to make China a net exporter for the first time since early 2019. China's move has allowed Rusal Group to increase production despite disruptions to the raw material supply chain in country.
However, the Rusal group has stopped publishing its production numbers, making it difficult to assess the operational challenges it may face or will face in operating its network of smelters in His Siberia.
The company started powering the new Taishet smelter in December last year and is planning to increase phase one capacity to 428,500 tonnes for the whole year. The International Aluminum Institute (IAI) monthly production report suggests that Taishet may indeed be boosting Rusal's output.
Annual production in IAI's "Russia and Eastern Europe" category was 4.12 million tonnes in August, unchanged from March. However, the regional figures include Romania, Slovakia and Slovenia, which All countries have seen smelter capacity closed due to high energy prices.
From this, Rusal's production growth is offsetting the pace of price decline in the rest of the region.
Metal flow continues
As can be seen, the flow of Russian metals into Western markets has been strong since March. Europe's average monthly imports increased 13% from March to June year-on-year. Last year, while the United States imported 21% more Russian metals during the same period.
According to Jakob Stausholm, chief executive officer of Rio Tinto, the uncontrolled flow of Russian metals into the US market is causing serious problems for local manufacturers.

However, from a fundamental market perspective, that's not unusual. This was due to the fact that the cost of US physical insurance increased to $880/ton above the LME's cash price at one point in April. Rising premiums led many buyers to use every unit. spare aluminum, including excess Russian metal.
There are no official sanctions on Russian aluminum. Most of Rusal's customers appear to be accepting delivery under existing contracts or getting the metal for immediate delivery from intermediates. However, many experts say that will change next year.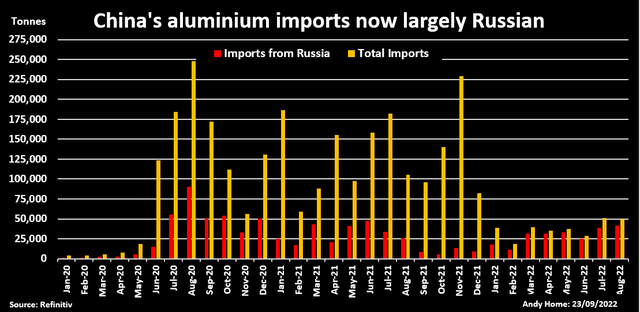 China's aluminum imports mostly come from Russia.
Satisfying new buyers
Novelis, a division of Hindalco Industries, and the aluminum extrusion unit of Norsk Hydro have said they will not sign a new contract for Russian aluminum purchases for 2023.
Many smaller operators are also joining the 'boycott' of Russian aluminum. This is sure to trouble Rusal and potentially affect aluminum prices.
The partial boycott will coincide with an increase in Russian supplies as Rusal's domestic market weakens further under the broader economic sanctions package.
Goldman Sachs predicts that Russia's metal exports will increase by about 340,000 tons this year and another 200,000 to 3.6 million tons in 2023. The sharp increase in exports will hit the European market, which is currently rapidly shrinking due to electricity prices are high and demand is falling.
This would have the potential for Rusal to direct its metal flows to more physical buyers in Asia, especially China.
China's aluminum imports fell 77% in the first eight months of this year but imports from Russia fell only 9%. In fact, Russia's imports of 231,000 tons accounted for 78% of total imports.
Russia's alloy imports have also surged in recent months, totaling 42,000 tonnes in the first eight months of 2022, compared with 33,000 tonnes for the whole of last year.
However, China's aluminum sector operates on a separate cycle and it is difficult to immediately 'absorb' large amounts of the metal that Western buyers reject.
Since then, many experts have begun to worry about the prospect that a large volume of unsold Russian metal will be dumped into LME warehouses. According to Bloomberg, Rusal Group is looking at the option of shipping metal from Russia's eastern seaboard to LME warehouse locations in Asia.
The concern is that the significant Russian metal inflow into the LME system could turn the aluminum contract into a "real" Russian contract at a discount comparable to the price in the Western market. The LME said it is monitoring the situation closely, especially given the lack of official sanctions on Russian metals.
The change in price will certainly make the LME aluminum contract more or less affected in some way, even if the Rusal group can find an alternative 'home' for its metal.
---
---
Operate and exploit advertising by iCOMM Vietnam Media and Technology Joint Stock Company.
116 Thai Ha, Trung Liet Ward, Dong Da District, Hanoi.
Email: info@more.edu.vn
Editor in chief: Tran Vo
Tel: (+84) 903076053/7 Fax: (+84) 903030935