XFX launches "terrible product" Radeon RX 6900 XT ZERO WB 'Liquid-Cooled', can reach overclocking levels beyond 3GHz
---
XFX is a relatively unknown name to most common computer users, but quite familiar in the gaming community. The manufacturer is behind a range of dedicated gaming graphics cards based on high-performance AMD Radeon designs, as well as award-winning professional gaming power supplies and accessories.
The US PC hardware manufacturer has just continued to attract attention when it officially introduces the all-new Radeon RX 6900 XT ZERO WB graphics card series, with a powerful PCB design and high-performance EKWB liquid cooling block.
In fact, the Radeon RX 6900 XT ZERO WB was first mentioned by XFX in July, and has left a lot of attention ever since. Now, after more than 2 months of completion, this high-end graphics card model has officially launched, is the fastest GPU that XFX has ever built, and promises to become a formidable counterpart to the "children" hot products" on NVIDIA's side. Especially in the context that the global CPU shortage has not and will show no signs of cooling down in the near future.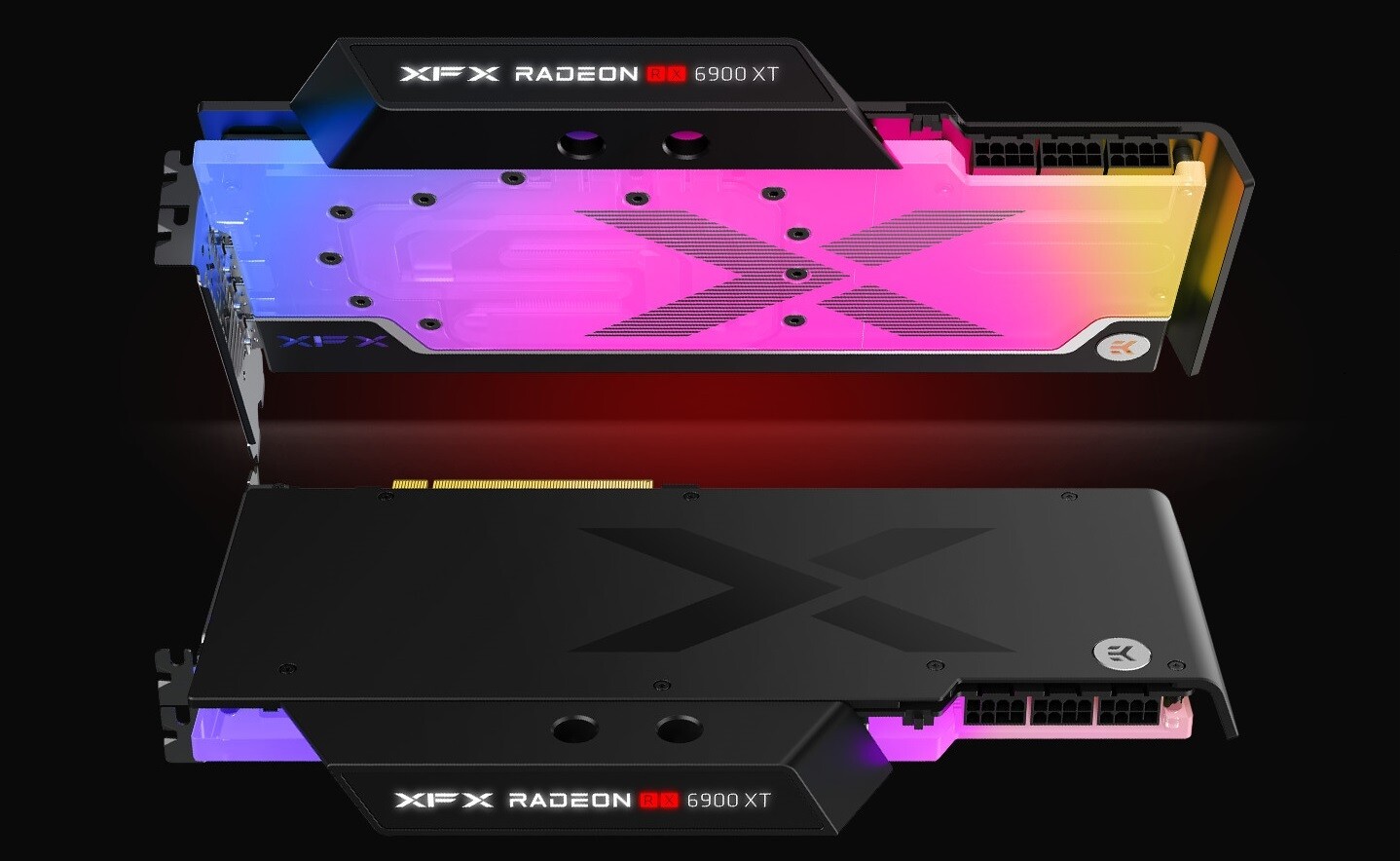 Here are some notable aspects on the XFX Radeon RX 6900 XT ZERO WB graphics card:
Liquid cooling
Designed by top experts
Highest protection OC
Unlocked OC GPU can exceed 3000MHz
Bios image
Unique ARGB decorative LED system
8 pin additional power connection
Power design 14 + 2 phase
Radeon RX 6900 XT ZERO WB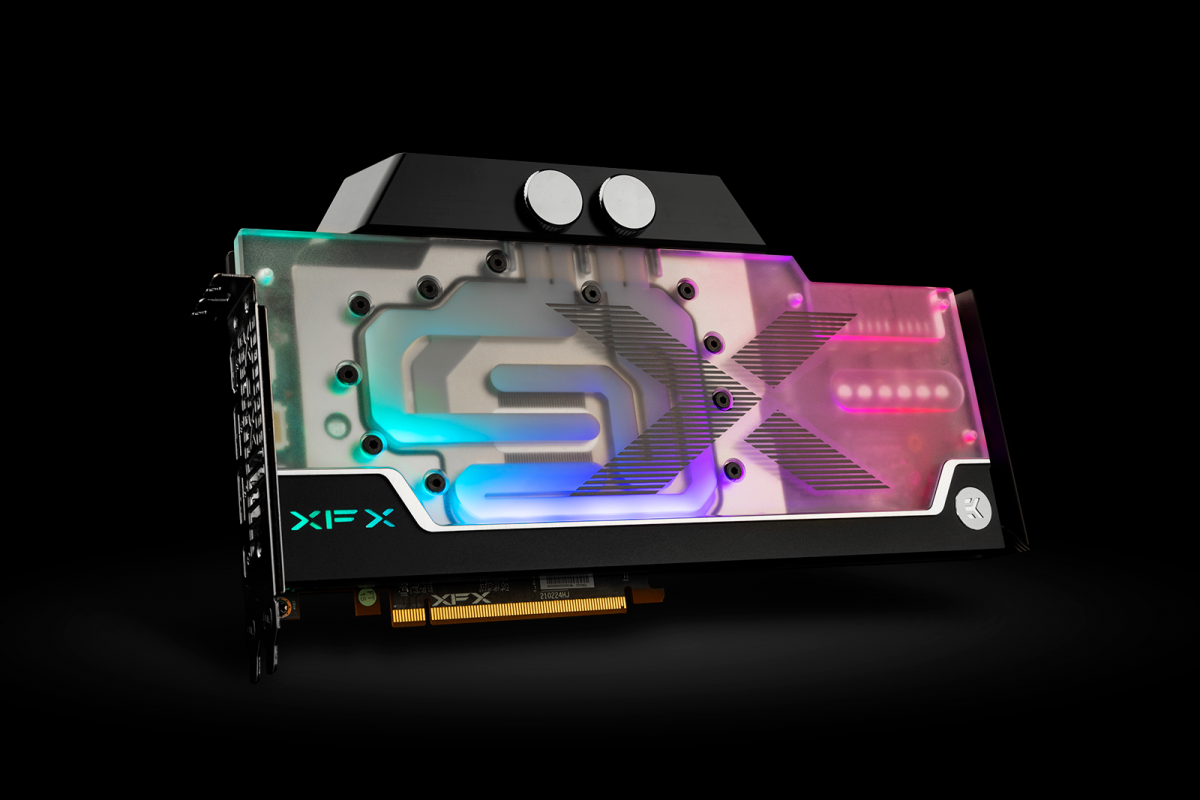 The EK Water tank that XFX equips the Radeon RX 6900 XT ZERO WB is also a custom designed model, optimized specifically for this graphics card model, with a stylized X logo on the front fender as a badge of recognition. quality determination. Therefore, the heat dissipation performance on the Radeon RX 6900 XT ZERO WB will certainly be very good. The front visor is made entirely of acrylic material, allowing a clear view of the GPU/VRM/memory block underneath which is quite eye-catching. This entire acrylic sheet is also equipped with flexible customizable RGB LED strips, providing a highly aesthetic effect.
The inside of the water tank includes a rather sophisticated CNC machined base plate. This base plate is made of nickel-plated electrolytic copper, while the upper part is CNC machined from the aforementioned Acrylic material. Leakage protection is provided by high-quality EPDM O-rings, which, combined with pre-set brass feet, allow for safe and easy installation. This is basically a dual-slot card model and has a standard 1 HDMI and 3 DP output display configuration.
The Radeon RX 6900 XT ZERO WB uses an 8-pin power connector. So power consumption will most likely hit more than 350W at peak clocks - a real monster.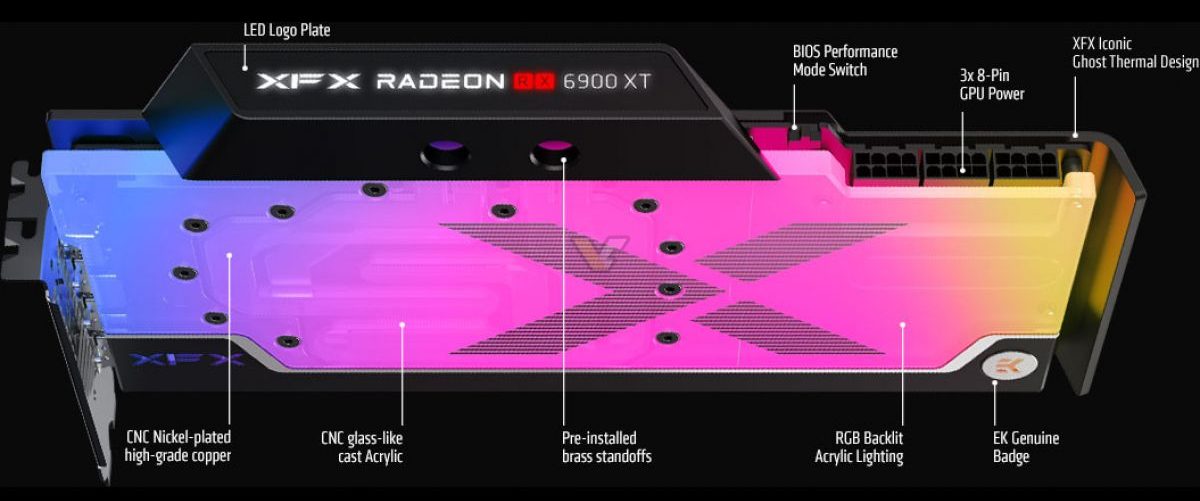 Another aesthetic highlight on the design of the card is the RGB-lit XFX Radeon RX 6900 XT logo on the sides. The PCB will also be a custom design with a 14+2 phase layout providing better overclocking. When shipped, the card will have a base clock of 2375 MHz and a boost clock of 2525 MHz. However, XFX has assured users that the Navi 21 XTXH GPU on this graphics card is fully unlocked and can be overclocked beyond 3000MHz. This is the most valuable point.
XFX has not announced the price of Radeon RX 6900 XT ZERO WB. But this is a limited variant, so the price will certainly not be cheap.
---
---
Operate and exploit advertising by iCOMM Vietnam Media and Technology Joint Stock Company.
116 Thai Ha, Trung Liet Ward, Dong Da District, Hanoi.
Email: info@more.edu.vn
Editor in chief: Tran Vo
Tel: (+84) 903076053/7 Fax: (+84) 903030935