Using iPhone 14 Pro should not miss these 10 settings
---
iPhone 14 Pro and Pro Max have begun to reach the world's first customers, and these are the settings users should not ignore when using this phone line.
Here are some useful settings you shouldn't miss specific to the iPhone 14 Pro models, including other settings introduced in iOS 16 for a wider range of iPhones.
New settings for iPhone 14 Pro series
Enable 48MP ProRAW photography
The iPhone 14 Pro models have an upgraded rear camera system that gives users the ability to take photos with 48MP resolution, but this can only be done in Apple 's ProRAW mode .
To enable ProRAW, open the Settings app - Camera - Formats, enable the Apple ProRAW option and select the 48MP level at the ProRAW Resolution line.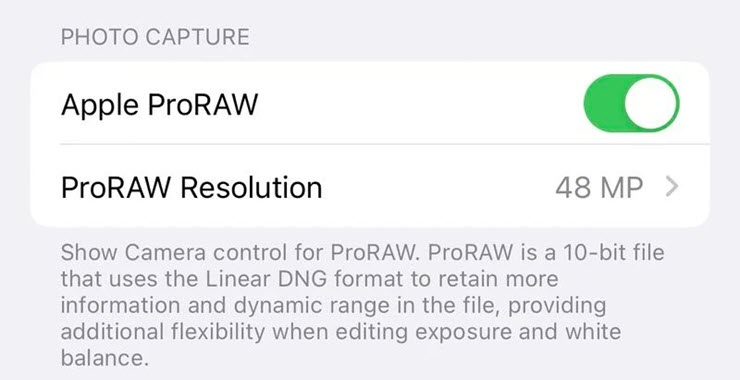 Enable Apple ProRAW option on iOS 16.
Once activated, when you take a photo, there will be a RAW button appearing in the upper right corner of the interface, this button allows to turn ProRAW on or off easily.
ProRAW images will retain more detail in the image file for more flexible editing. The files of 48MP ProRAW photos will be very large around 75MB or more, so be aware of your iPhone's storage space if taking photos in this mode.
Activate 4K Cinematic movie mode
On all four iPhone 14 models, videos shot with Cinematic mode can now reach 4K quality.
To enable 4K resolution, in the Settings app - Camera - Record Cinematic and choose one of 2 options: 4K at 24 fps (4K recording at 24 frames per second) seconds) or 4K at 30 fps (4K recording at 30 frames per second).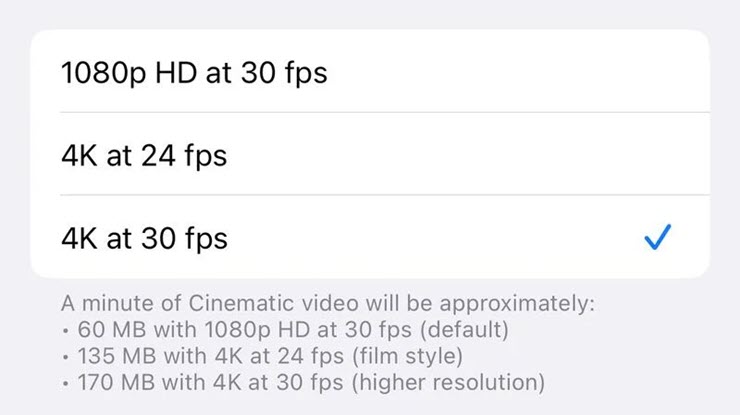 4K video recording modes on iPhone 14 Pro.
Introduced with the iPhone 13 lineup, Cinematic mode gives users a depth effect with automatic focus shifting for cinematic-style videos.
Optimized Action Mode in low light conditions
All four iPhone 14 models have Action Mode, a new mode that provides equalization when recording movies, but the phone is shaken for smoother video. Apple says the feature can be used to record videos while driving off-road in vehicles, video while following people running, and more.
In the Settings app, navigate to Camera - Record Video and enable the Action Mode Lower Light option.

Turn on the startup sound
Apple has added a new accessibility feature that allows all iPhone 14 models to play sounds when powered on and off.
This feature can be enabled in the Settings app - Accessibility - Audio/Visual and enable the Power On & Off Sounds option.
Turn off the Always-On Display feature
The iPhone 14 Pro's new Always-On Display mode is enabled by default. Users who do not want to use it can turn it off by opening the Settings application - Display & Brightness, turning off the Always On option.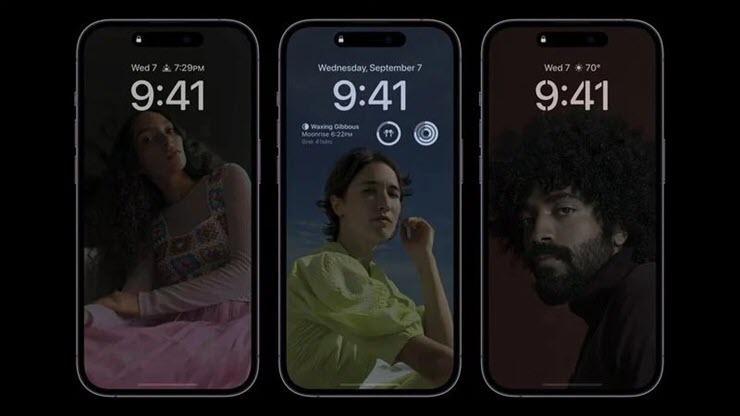 Always-On Display feature on iPhone 14 Pro models.
Always-On Display will dim the entire lock screen, but still show the time, date, widget, wallpaper, and unread notifications. After you pick up your iPhone, tap or swipe up at the bottom of the screen, or tap the power button, the screen returns to normal brightness.
New settings for iOS 16
Enable vibration feedback when typing
iOS 16 added a new haptic feedback option to the iPhone's keyboard. Similar to many Android smartphones, iPhone can produce a slight vibration after each touch on the screen when typing.
To enable vibration feedback, open the Settings app - Sounds & Haptics - Keyboard Feedback and enable the Haptic option.
Enable keyboard feedback vibration on iOS 16.
Show battery percentage
iOS 16 users can finally see the battery percentage in the status bar, eliminating the swipe to open the Control Center to see the battery percentage like before.
Battery percentage is back on iOS 16.
To enable the new icon on iPhone 14 Pro models, open the Settings app – Battery and enable the Battery Percentage option.
Automatically send messages using Siri
Siri usually asks for confirmation before sending someone a message, but in iOS 16, there's a new option to skip the confirmation step. To enable this feature in the Settings app - Siri & Search (Siri & Search) and enable the Automatically Send Messages option.
Ask Siri to end the call
With iOS 16, you can say "Hey Siri, hang up" during a phone call to end the call, but note that this voice command may be heard by others on the call.
In the Settings app, the feature can be enabled in Siri & Search with the Call Hang Up option.

View saved Wi-Fi passwords
Finally, iPhone users can see the password of previously connected Wi-Fi networks on iOS 16.
iOS 16 has shown saved Wi-Fi passwords.
In the Settings app - Wi-Fi and click on the Wi-Fi network to see the password, pay attention to the box showing the password and click on it, authenticate with Face ID to be able to see the password.
---
---
Operate and exploit advertising by iCOMM Vietnam Media and Technology Joint Stock Company.
116 Thai Ha, Trung Liet Ward, Dong Da District, Hanoi.
Email: info@more.edu.vn
Editor in chief: Tran Vo
Tel: (+84) 903076053/7 Fax: (+84) 903030935