Top 7 shaping digital transformation trends in 2020
---
The MuleSoft Connectivity Score survey shows that 97% of IT decision makers are involved in digital transformation initiatives at their respective organizations. The study identifies the most important digital transformation trends for 2020 and beyond, exploring the implications and benefits.
All digital business transformations must begin and end with improving the experience of stakeholders. Stakeholders of the company are the employees, customers, partners and the community we serve. Nearly every CIO is actively involved in digital transformation projects, according to MuleSoft's Connectivity Score survey.
Ninety-seven percent of IT decision makers are tasked with using a combination of new technologies to modernize legacy processes and to identify and implement new business model innovation opportunities. How do IT leaders transform project scope? What are the business drivers behind their investment thesis? What are the near and long term business benefits of digital transformation? Study outlining the most timely trends for 2020 and explore their business impact.
7 experts forecast trends for 2020 that have been developed using data from more than 850 global IT leaders, 9,000 consumers and third-party studies. The study identifies case studies that highlight how CIOs of leading global companies are initiating - or driving - these trends.
Here is a summary of the top 7 digital transformation trends in 2020:
CONNECTING THE CONSUMER EXPERIENCE
Organizations need to tackle to increase the pressure on IT to open bandwidth to provide a personalized, connected experience for their consumers - from customers to partners to employees to developers.
The average number of applications used in each organization is 900, making it difficult for companies to provide a connected experience. Meanwhile, consumers expect consistent journeys across multiple channels including messaging services and mobile gateways. Multi-channel customers spend 10% more online than one-channel customers. The connected experience means eliminating friction in customers' journeys and accessible anytime, anywhere. Customers are also expecting highly personalized experiences. Seventy-four percent of consumers think that companies should understand their expectations and needs.
BUSINESS BASED ON DATA
Data unlocking and analysis is at the heart of digital transformation. Businesses are putting their data to work to improve customer experience, streamline operations, and quickly launch new products and services.
85% of IT planners report data silos creating business challenges in their organizations. Research shows that breaking down data silos is positively correlated with company performance. Sixty-eight percent of the best-performing companies have reported on working to eliminate silos of data and share insights.
Companies are putting data to work to improve customer service, streamline operations, and innovate with speed. Eliminates friction and movement of resources directly affected by how companies can leverage data to develop their predictive muscles.
Artificial Intelligence and Machine Learning
Organizations are increasingly investing in AI capabilities to promote and personalize customer service, reduce human bias and increase productivity. They are learning that the value of AI and machine learning tools depends on the data they are fed.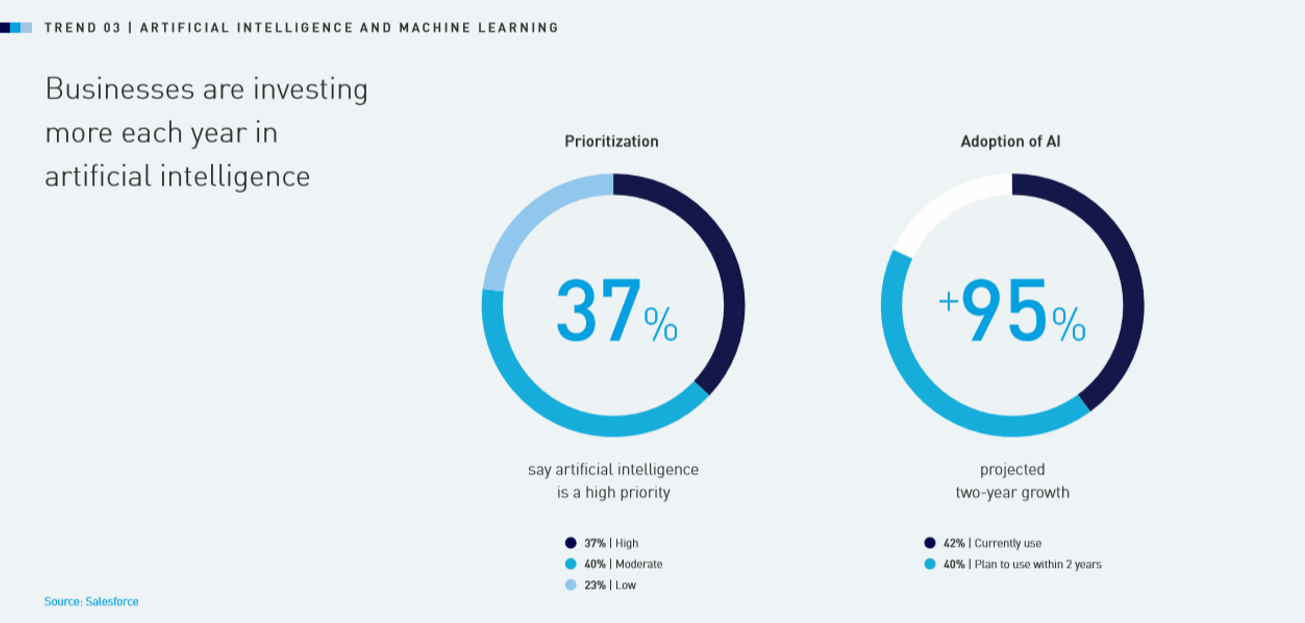 The study predicts a 95% growth in AI adoption. AI is proven to be a powerful tool to personalize customer experience, reduce human bias and automate tasks.
Machine Learning (ML), basic task automation, and virtual agents / chatbots are the most common use cases of AI. Twenty-five percent of customer service operations will use virtual customer assistants by 2020.
The study also highlighted the use of surgical robots, pick-and-place robots and drone use cases. In financial services, AI uses cases to detect fraud, invest in services, and loan approval processes are identified with specific company deployment models. In retail, AI is used for personalized offers and promotions. 55% of consumers are willing to allow retailers to track their shopping behavior with and outside the stores if that means they can receive personalized offers and promotions. Health care organizations use machine learning to enhance disease detection.
To maximize the value of AI and machine learning, research shows that companies start with data management. Start by asking the following five questions:
1. What are your 5 most valuable datasets?
2. How do values ​​be created?
3. Do you have an API?
4. How is the quality of your data?
5. Who can contribute data and how is it monitored?
MULTI-CLOUD COMPUTING
Most businesses today run on cloudy environments, but managing multiple clouds is complicated, especially when it comes to moving application workloads between cloud environments. Application development and containerization led by API are two potential solutions to this problem.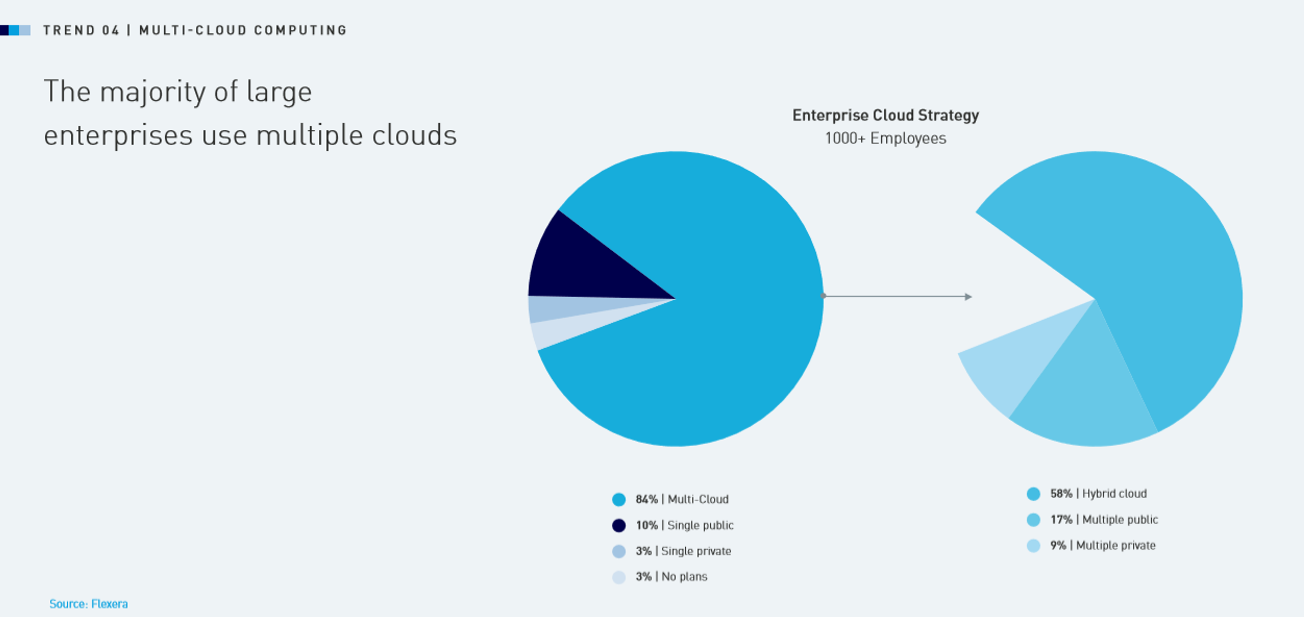 85% of businesses with more than 1,000 employees have a cloudy strategy. The biggest challenges with cloud strategies are complexity, application management, and cost management. Businesses struggle to move application workloads across the cloud. Research shows that APIs help unlock data and the unique functions of applications that reside in multiple cloud environments. The study also estimates 165% growth over the next 18 months for companies operating their environment using packaged applications. A container is a standard software unit that encodes code and all its dependencies so that applications run fast and reliably from one computing environment to another.
COOPERATE WITH IT TO PROMOTE BUSINESS
To maximize the full potential of technology, organizations are positioning IT as a core determinant of business.
There is increasing pressure on IT to deliver more, faster. Each company must act as a technology company, leveraging a combination of new and emerging technologies to improve the experience of its stakeholders. This means that IT must be agile, fast, and creative.
As organizations invest more in distributed and emerging technologies, here are the top technology investments in 2019:
Nearly all (92%) of businesses report integration needs that go beyond IT. Research shows that IT can no longer keep up with the needs of businesses. Thirty-six percent of IT decision-makers can complete all the required projects in 2019. Nearly 7 out of 10 IT departments simply turn on the lights.
CO-CREATE VALUES WITH EXTERNAL RELATED PARTIES
The best businesses are creating the network effect by building a collaborative ecosystem of partners, customers and external stakeholders. Research shows that the digital ecosystem is on the rise and companies can seamlessly incorporate new products and services into their customer experience. Examples of value co-creation are highlighted with open source, platforming and aggregating data with specific use cases from Apple, Mastercard and Plaid. The point is that open APIs help businesses create value with outside stakeholders.
PROMOTE BUSINESS PERFORMANCE WITH THE API
Businesses that leverage APIs are experiencing increased productivity, revenue growth, and innovation - but they must be manufactured and easily reused to provide full value. Ninety-one per cent of organizations that own public and / or private APIs are experiencing significant business results. APIs allow organizations to innovate faster and smarter.
Research reminds us that the more sophisticated the API strategy is, the greater the business results. Some companies have doubled their speed by reusing the API. Several customer use cases have been emphasized to illustrate significant improvements in IT delivery speed, faster product launches, and increased sales based solely on API management and optimization techniques.
---
---
Operate and exploit advertising by iCOMM Vietnam Media and Technology Joint Stock Company.
116 Thai Ha, Trung Liet Ward, Dong Da District, Hanoi.
Email: info@more.edu.vn
Editor in chief: Tran Vo
Tel: (+84) 903076053/7 Fax: (+84) 903030935