iPhone is really secure, but there are many things that are not as good as Xiaomi
---
The privacy management features on Xiaomi smartphones are almost very few companies have.
Xiaomi TV dropped the screen
Xiaomi launches RedmiBook Pro 2022 version using Ryzen 6000H chip, priced from 18.3 million VND
Not Xiaomi 12 Ultra, this is the first Xiaomi smartphone with the "Leica" logo
Privacy today is always one of the top priorities for users and smartphone manufacturers. Apple in recent versions of iOS has integrated many more privacy management tools on iPhone and iPad, such as preventing the application from tracking user behavior, if so, what data is reported. can be collected, display an alert if an app is accessing the mic and camera, etc. Apple even created a Private Relay network that allows users to access the web almost anonymously on the internet.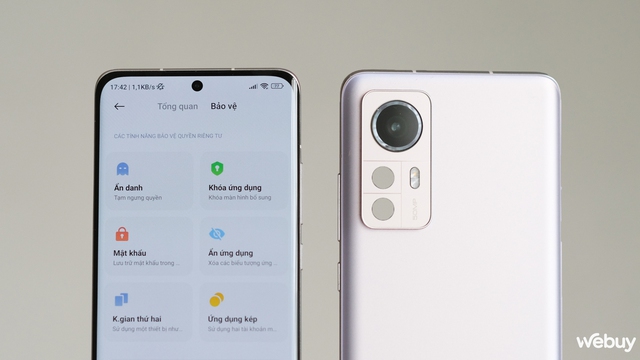 However, these features are basically just a "tip" of the "privacy" iceberg that users still face every day. If you are a fan of Xiaomi, you will surely know how much Xiaomi helps users to protect their privacy. And this is also the factor that makes me still loyal to this brand, instead of switching to other smartphone brands.
Advanced App Permissions Management
On iOS and pure Android devices, users can only manage certain app permissions, such as permissions to access phone storage, access media data, service permissions location, camera, microphone, push notifications or allow self-launch and run in the background. These are all basic rights that almost any machine has.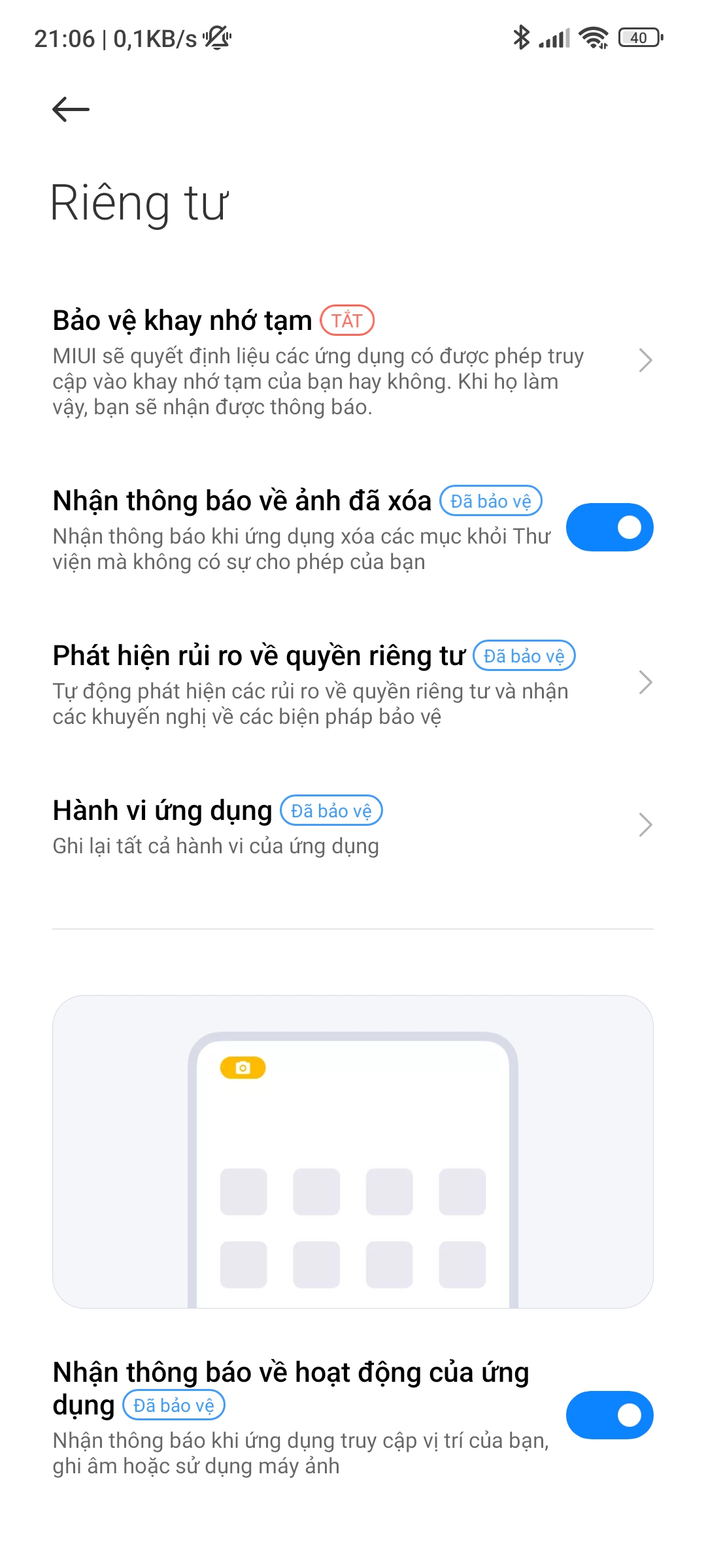 With Xiaomi smartphones, Xiaomi allows users to customize even more, there is even a separate "Privacy Protection" section in the settings to help users precisely manage each application's permissions.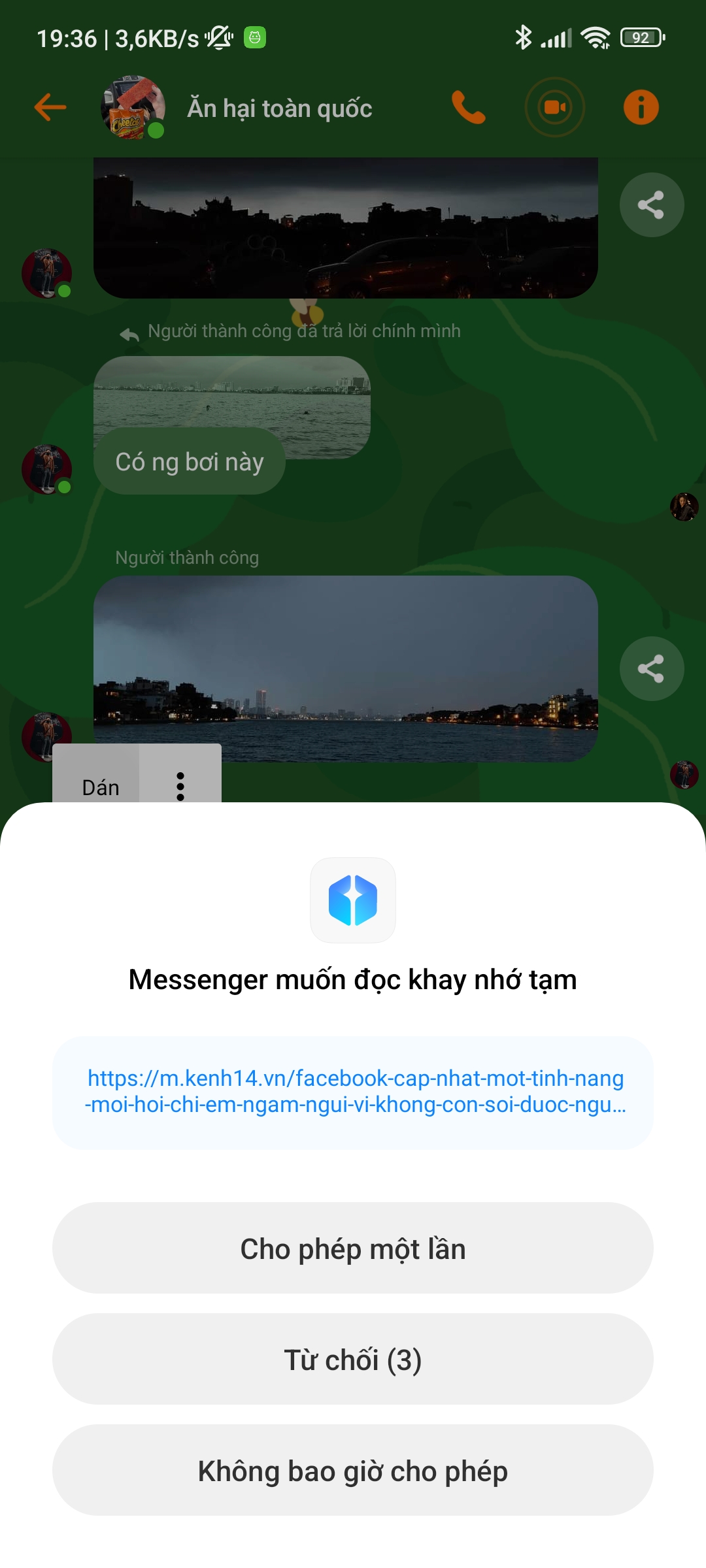 A series of application permissions that users can customize in the settings of Xiaomi devices

In the application permissions, it is worth noting that there are 4 permissions including receiving information about the device, reading contacts, reading SMS messages and reading events calendar, Xiaomi allows users to choose "Return empty data" . With this mode, the MIUI of the device will send to the application an empty list without any data to protect the user's privacy, because in many cases, the application will not work if the user does not. provide access to these data on the phone
Privacy Protector
In the settings of Xiaomi devices, users have a separate "Privacy Protection" section. In this option, MIUI will provide an overview of which applications have accessed the phone's contacts, location services, microphone or clipboard.
Optional interface "Privacy protection" on Xiaomi devices
In addition, there is a section for users to see the behavior of the application (all apps or a single application), so that these applications have accessed the information and have done since the application. installed on the machine,
Details of app behavior as well as permission permission/deny history
The privacy guard on Xiaomi also allows users to customize many other items such as protecting the clipboard, receiving notifications about deleted photos, detecting privacy risks, receiving notifications about activity. of the app, allows access to approximate location and requires permission to access phone numbers from SIM card, delete all photo EXIFs when sharing on social networks, create privacy space or lock apps. ..
Advanced privacy customizations
MIUI also has a feature that helps users create virtual IDs for each app. Virtual IDs are used so that apps can personalize ads. The ID can be deleted or created a new one.
A few other privacy options.
It can be seen that Xiaomi is one of the manufacturers that provides a lot of privacy protection options for users, not just the iPhone. With the above customizations, combined with the use of virtual networks (VPNs), users can completely become "anonymous" on the internet environment, almost completely limiting being tracked.
---
---
Operate and exploit advertising by iCOMM Vietnam Media and Technology Joint Stock Company.
116 Thai Ha, Trung Liet Ward, Dong Da District, Hanoi.
Email: info@antarespolisportiva.org
Editor in chief: Tran Vo
Tel: (+84) 903076053/7 Fax: (+84) 903030935