iPhone 14 has "stealed" these 5 features from the Android platform
---
Some of the new features that excited iFan on the iPhone 14 product line seem to have been available for a long time on Android.
According to Android Central , Apple's new product series has just been announced according to the annual September schedule, the highlight of 2022 is the iPhone 14 series with many major changes in features. But there have been many opinions that the iPhone 14, mainly iPhone 14 Pro and Pro Max, has "stealed" ideas from previous Android phones.
Dynamic Island – inspiration from LG V10
Perhaps the most prominent announcement during Apple's Far Out event was the introduction of Dynamic Island on the iPhone 14 Pro and Pro Max.

Dynamic Island feature on iPhone 14 Pro series.
Apple has finally done what many users have been asking for since the introduction of the iPhone X: removing the notch. Although the screen cutout is still retained on the iPhone 14 and iPhone 14 Plus, it seems that this move by Apple is to provide a difference for the non-Pro series phones and boost the appeal of the feature. New Dynamic Island.
Dynamic Island may be a revolutionary new feature with the iPhone, but in fact LG has been doing it for a long time with the LG V10.
Second Screen on LG V10 is the original version of Dynamic Island.
In an effort to give users a new way to interact with phone notifications, LG has introduced Second Screen. This feature allows users to set shortcuts for contacts, view incoming notifications, and control whatever music is playing, without having to use the home screen.
LG tried to make a difference, but poor implementation and lack of support killed Second Screen. Then the V20 was born and still maintains this feature, but the results are still not much different from its predecessor.
Apple borrowed this idea from LG and succeeded, Apple's Dynamic Island implementation simply worked in a completely different way. For example, when you start playing music and leave the app, "Island" will display "Dynamic" information, such as a song's album art. Everything is "dynamic" (Dynamic) and does not take up space of the screen in a fixed way like LG.
After all, while Dynamic Island isn't exactly LG's copy of Second Screen, there's clearly a bit of inspiration there.
Front camera below the punch-hole screen
Speaking of the notch, everyone knows that it is only a matter of time before Apple gets rid of it, and the company decided to do something "revolutionary" with the notch when choosing to use a punch-hole screen design. .
Perforated screen on iPhone 14 Pro and Pro Max series.
Previously, because different sensors were placed in the notch, to change it, Apple not only had to redesign the modules, but also had to make two new cutouts in the form of holes in the screen. One of them is for the front camera, and the other will contain the proximity sensor and whatever else Apple uses for Face ID.
Huawei was the first company to implement a punch-hole display when it completely removed the notch on the Huawei Nova 4. And since then, most Android smartphones have opted to use this design. Including many top Android phones such as Galaxy S22 series, Pixel 6, ASUS ZenFone 9, …
The punch-hole design has been available on Android phones since before.
Now Apple has also chosen to follow Huawei's path with the iPhone 14 Pro and Pro Max. And while iFan is fascinated with the new design, many Android products seem to be forgetting the punch-hole screen and introducing a new breakthrough with the monolithic screen with the front camera hidden below, typically the Galaxy. Z Fold 4 and ZTE Axon 40 Ultra.
Always-On Display
Speaking of new features that Apple should have implemented years ago, Always-On Display (AOD) should probably be at the top of the list. This feature has been around on Android for a long time and gives users a quick way to see the time and all notifications without activating the screen.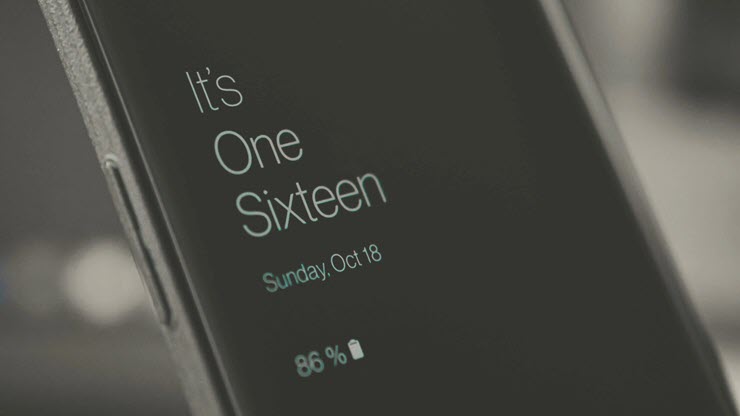 The useful always-on display should have been on the iPhone a long time ago.
Currently Apple has provided AOD but it is not available on all new products, but only for iPhone 14 Pro and Pro Max.
Dynamic Refresh Rate (dynamic refresh rate)
Android users have long experienced faster and variable refresh rates, but surprisingly it took Apple a long time to implement this capability.
Android devices and the ability to customize the screen refresh rate.
Apple chose to use an odd term instead of using the Dynamic Refresh Rate prototype, and ProMotion was born. The feature was first introduced with the iPhone 13 Pro and Pro Max last year, but it is limited to a refresh rate from 24Hz - 120Hz.
With the introduction of the iPhone 14 Pro and Pro Max, along with AOD, Apple thinks it's time to adjust the refresh rate even lower. Instead of a minimum of 24Hz, the iPhone 14 Pro lineup with ProMotion displays can now automatically reduce the refresh rate to 1Hz. The obvious reason is to keep the iPhone's battery from draining when using AOD.
Before Apple had OnePlus 9 Pro and Oppo Find X3 Pro were two of the first phones to offer dynamic refresh rates from 1Hz - 120Hz, thanks to the LTPO display. And this feature has appeared on more devices like the Galaxy S22 Ultra and now the iPhone 14 Pro series.
Car Crash Detection
There's a new Apple feature that was announced at the Far Out event but is quite familiar to Pixel phone users: Car Crash Detection. This feature was first added to Android by Google in March 2020 for Pixel 2, 3, and 4 owners.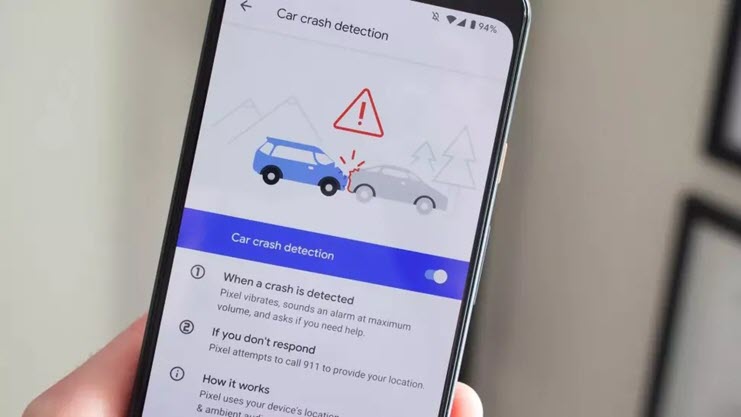 Crash detection on Google's Pixel phones.
Car Crash Detection is capable of detecting traffic accidents using the motion and ambient sound sensors built into Pixel phones. When the phone detects a car accident, an alarm can be sounded, which will then prompt the user to determine if help is needed. If no response is received, the device will automatically call emergency services, and Pixel will provide the accident location to those services.
Not only did Apple bring this feature to the entire iPhone 14 product line, but the Apple Watch Series 8 was also the first smartwatch with this function.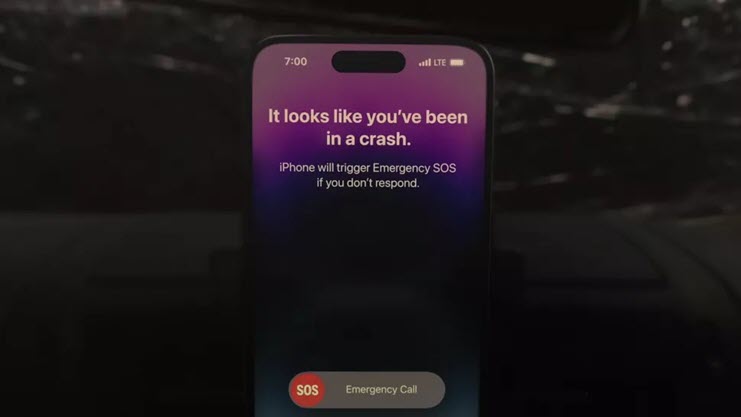 Apple has brought Car Crash Detection to all of the company's new products.
In June 2022, it was discovered that Car Crash Detection may no longer be exclusive to Pixel phones in the future. Code hidden in Google's Personal Safety app suggests that the functionality may appear on other Android phones in a future update. But for now, it seems that only Google and Apple are the phone makers that own this feature.
---
---
Operate and exploit advertising by iCOMM Vietnam Media and Technology Joint Stock Company.
116 Thai Ha, Trung Liet Ward, Dong Da District, Hanoi.
Email: info@more.edu.vn
Editor in chief: Tran Vo
Tel: (+84) 903076053/7 Fax: (+84) 903030935