Beating Intel Core i9-12900KS, 12-core AMD Ryzen 7900X generates 'seismic' on UserBenchmark
---
At the end of August, AMD officially announced the Ryzen 7000 series desktop CPU product line. This is the company's flagship desktop processor line in 2022, coming with the much-anticipated Zen 4 architecture.
The new product line will have a total of four SKU models, spanning multiple price segments as well as configuration options. At the top will be the flagship chip Ryzen 9 7950X 16 cores 32 threads (16C/32T), followed immediately by the Ryzen 9 7900X (12/24T), Ryzen 7 7700X (8C/16T), and finally the Ryzen 5 7600X ( 6C/12T). The selling prices of the products are 699, 549, 399 and 299 USD, respectively.
Today, a series of third-party benchmarks for a very important model in the lineup - the Ryzen 7900X - were revealed on UserBenchmark. This is a relatively reputable free online benchmarking utility website, and is also famous for being "rigorous" with products from AMD. In the past, UserBenchmark has publicly called AMD's 3D V-cache technology a "gimmick" when the Ryzen 7 5800X3D was released, and there are countless other similar examples.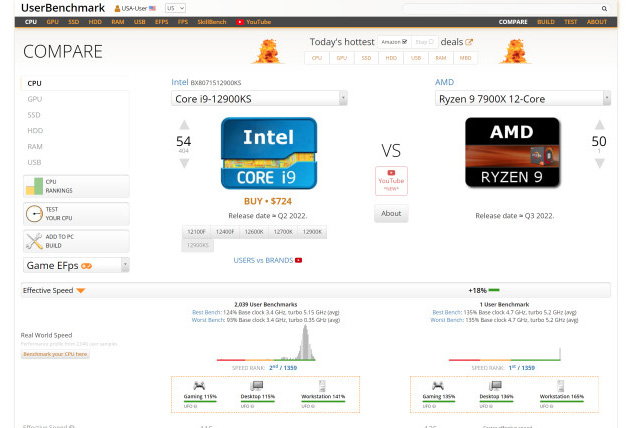 But the "seismic" happened when the Ryzen 7900X took the top position in UserBenchmark's desktop CPU benchmark rankings, even beating Core i9-12900KS, the dominant name throughout the past time. . Accordingly, Ryzen 7900X gives up to 18% better performance than Core i9-12900KS. This is a really impressive number considering the fact that UserBenchmark has adjusted its benchmarking algorithm and instruction set in Intel's favor, ever since AMD's Zen architecture was a monster. multithreaded object a few years ago.
AMD Ryzen 7900X beats Intel Core i9-12900KS on UserBenchmark

More real-world reviews, coming from many different benchmarks, will be needed to get a more objective view of the real power of the Ryzen 7900X. However, the fact that AMD won right in the "home field" of the opponent also partly shows that the Ryzen 7000 series product line in general and Ryzen 7900X in particular is really worth experiencing.
Official AnTuTu benchmark results of Apple A16 chip show leap in GPU performance
Intel Officially Confirms Raptor Lake Core i9-13900K, i7-13700K, and i5-13600K CPU Specifications
What is Apple A16 CPU? What's improved compared to the previous generation?
Intel launches program to provide free games, software for users of Arc GPU and Alder Lake CPU
---
---
Operate and exploit advertising by iCOMM Vietnam Media and Technology Joint Stock Company.
116 Thai Ha, Trung Liet Ward, Dong Da District, Hanoi.
Email: info@more.edu.vn
Editor in chief: Tran Vo
Tel: (+84) 903076053/7 Fax: (+84) 903030935