Arwind Krishna, who 'enlightened' the cloud for IBM
---
Sticking with "Big Blue" since the beginning of his career, the CEO and Chairman of IBM is not only a witness to the ups and downs but also behind the great turning points of this veteran computing corporation.
The world's richest billionaire in digital currency comes to Vietnam: Entering a new field that from the beginning is afraid, does not dare to take risks, will not do anything!
The portrait of a Vietnamese hacker couple makes the world security community admire
It's a joke: Powdered milk surpasses electronic devices like iPhone to become the most easily stolen item
Important turning point
One day in July 2017, at International Business Machines Corp (IBM), Arvind Krishna entered a regular meeting with senior leaders. The moment this man presented his idea was the moment that changed the future of the 108-year-old company forever.
Four months earlier, Krishna, IBM's head of cloud computing, had pondered how to connect users' most important data - often on private servers - to cloud servers. publicly run by a third-party vendor such as IBM, Amazon or Microsoft.
At the time, the company had just exited a streak of 19 consecutive quarters of falling profits but was lagging behind rivals in the lucrative cloud space. In front of the entire board of executives and CEO Ginni Rometty at IBM headquarters, Armonk, New York, Krishna launched a hybrid multi-cloud strategy with several cloud products running right on his MacBook.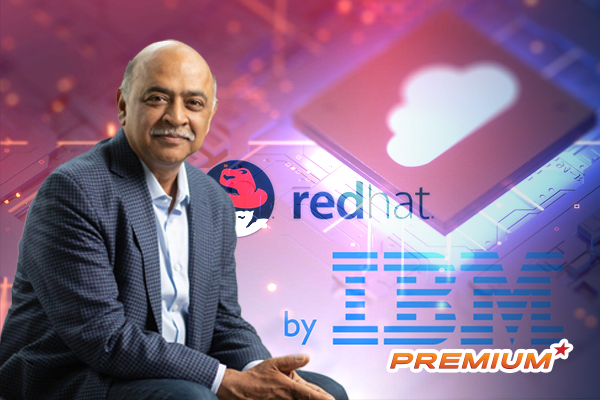 Although it was only a trial version and not yet completed, the product had made everyone, including about 60-70 senior executives at IBM, "enlightened". The first question the team asked, was when the product could be commercialized.
Three months later, IBM launched a hybrid cloud product. Rometty calls it a "game changer". To serve this trillion-dollar game, at Krishna's request, IBM acquired the open source software company Red Hat for $34 billion.
Heritage reconstruction
The Indian technologist spent his entire career at IBM and witnessed all of the company's ups and downs, from being a world leader in computing and IT services, to missing the revolutionary wave cloud and lagging behind younger competitors like Amazon.
The quest to restore the "Big Blue" requires a radical transformation, away from business legacies that are unprofitable or too slow to grow, to the future of modern computing, and none other than Arvind. Krishna was the chosen one for the above mission.
Krishna's career path is reminiscent of Satya Nadella, the head of Microsoft's division, being appointed CEO of this company in 2014. Like Krishna, Nadella also gambled on the cloud game and reaped the rewards, bringing the results. Microsoft became the second technology company with a market capitalization of more than $1 trillion.
To date, IBM has launched two cloud services, designed to address specific requirements in critical and tightly managed areas. Cloud for financial services, signed with key partners in 2020, including Adobe, Infosys Finacle and Persistent System. Meanwhile, the Telecom Cloud service already has more than 35 partners, including Samsung, Verizon and Vodafone Idea.
According to business results for the second quarter of 2021, IBM's cloud computing revenue increased 13% to $ 7 billion. The urgency of digital transformation in the post-pandemic context will continue to be the driving force behind this business in the future.
Cultural transformation
Not only related to technology pieces, for a large company like IBM, corporate culture is very important. Krishna clearly understood, to be successful, he would have to undertake a massive cultural transformation of the company.
Once again, people compare the similarities between Arvind Krishna and his compatriot Satya Nadella in terms of implementing the cultural revolution. Like Nadella, Krishna has been with the company since his early days in the US, so he has a deep understanding of the company's internal culture.
" One of my top priorities is promoting entrepreneurial thinking across all business segments. It's nimble, pragmatic, and geared toward speed rather than flashy. It's about being comfortable in an open environment and constantly adapting to changing circumstances ," said Krishna, referring to the need to change the corporate mindset from within.
Changing the strategy is difficult, adjusting the corporate culture of a company that is hundreds of years old is even more difficult, but this is also the fact that Krishna has left his strong management mark.
The first thing after taking over as CEO, Krishna announced that IBM will put all its efforts into the hybrid cloud and artificial intelligence battle, starting with the expansion of the infrastructure services business.
This means that, in addition to the business of software and infrastructure services, Red Hat, the previously acquired open source software company, will become a leader in helping customers manage their computing environments. Mixed clouds around the globe. Red Hat is also a key deal that Krishna planned in advance to prepare for a market share of more than trillion dollars of pie.
" Acquiring Red Hat gives us the technology base to build an open-source hybrid cloud platform, giving customers more choice as they embark on this journey. The success of the deal is the impetus for us to take the next, bigger step, which is to bring infrastructure services out. From there, the rest of the company can focus on hybrid cloud and artificial intelligence, " IBM CEO told CNBC.
Krishna offers a new perspective on competitors in the cloud computing race like Microsoft and Amazon. He sees them as powerful partners in the public cloud array, collectively known as third-party partners.
" In this journey, I see Microsoft and Amazon as partners, not competitors in the market. In a mixed world, the customer's question will be where do they decide to place the workload? They can be located at Amazon, they can be Microsoft and they can be IBM, or even run their own headquarters, " he said.
And in such a correlation, what will help improve the user experience? Red Hat could be the answer, by becoming the glue that holds environments together, creating a simple way to manage a complex thing.
---
---
Operate and exploit advertising by iCOMM Vietnam Media and Technology Joint Stock Company.
116 Thai Ha, Trung Liet Ward, Dong Da District, Hanoi.
Email: info@more.edu.vn
Editor in chief: Tran Vo
Tel: (+84) 903076053/7 Fax: (+84) 903030935